Little Venice ~ Trumansburgs ONLY Pizza Delivery
Lunch Buffet Everyday 11am-2pm

Over 50 Items including Salads, Soups, Pasta, Knots, and Pizza.
We Deliver!
$15. Minimum Order (limited area)
FREE WiFi
Brick Oven Pizza!
Quality toppings include fresh veggies and our signature Homemade Italian Sausage. Premium Mozzarella with Homemade Dough and we use only the best quality tomatoes in our homemade sauce. Tips for Reheating.
Italian Specialties!
Fresh Homemade Pasta (made with Fresh Local Eggs) and all of our sauces are Homemade using only the best quality Tomatoes available. Premium Cheeses, Fresh Veggies, and Meats.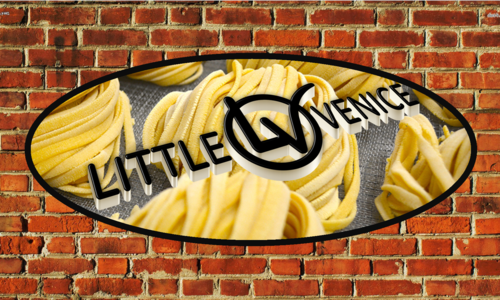 607-387-7044
49 E. Main St
Kitchen Hours:
Sunday-Thursday
11am ~10pm
Friday-Saturday
11am ~ 10:30pm
Mastercard - Visa - Discover - Cash
(No Personal Checks)
Entrees
The secret is Fresh! We use top quality ingredients including Black Angus Beef, Choice Fresh Veal, Fresh premium Seafood, Fresh All-Natural Chicken and Veggies. With great ingredients come a great finished product.
Burgers ~ Wings ~ Appetizers ~ Submarines
Burgers ~ We use ONLY Fresh Angus Beef that we double grind fresh daily.
Wings ~ We use ONLY Fresh never frozen wings with premium sauces (never cutting any corners).
Submarines ~ We use ONLY top quality ingredients' and unique offerings like our "Taughannock Turkey" that features house roasted Turkey and Apple Wood Smoked Bacon or the "Sausage Parmesan" that features our Homemade Italian Sausage and premium Mozzarella.
Appetizers ~ We have a nice selection of house made unique items including Bada-Bing Shrimp and our FRESH Calamari.
Contact Us: Contact@LittleVeniceT-Burg.com