Little Venice ~ COUPONS "Print, Cut & Save"
Coupons in our OLD (full color) menus will no longer be accepted as of 3/1/09, they are 3 years old. NEW MENU IS HERE NOW.
ONLINE ONLY COUPONS !
Updates coming soon!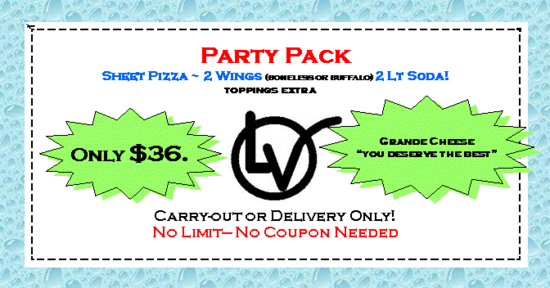 EASY REHEATING
Pre heat oven to 350 place Pizza and Wings on cookie sheet or aluminum foil place on middle rack and bake for approximately 10 Minutes until 160 and Enjoy!
50 Toppings from Asparagus to Zucchini and everything in between.
Having a party?
We are here to help.
Call one of our Catering Experts today.
Trumansburg's Coldest Beer
We have Trumansburg's "COLDEST BEER" with the addition of our Ice Chamber Storage System, by packing your beer in ice we can guarantee you the coldest beer in town.
Congratulations!
You have made it to the end of our coupon page and at the same time you found another exclusive offer. Check back often as these change regularly and won't be found anywhere else.